EN1337 - Enlogic - Metered 32A 0U Vertical PDU, 42 outlets, 36x C13, 6x C19 (1000 Series) EN2.0, 1PH, IEC 60309 332P6, 230V, 7.68kVA
Description:
EN1337 - 32A Metered Enlogic PDU


The EN1337 Input Metered PDU includes energy metering with advanced power and environmental monitoring options. Metering at the phase input and internal circuit breaker levels allow comprehensive overload monitoring and advanced alerts, while billing-grade watt-hour metering provides accurate power consumption data for energy use optimization and change management. Advanced network management features allow for a variety of remote access methods and integration with accessories including environmental monitoring and security access solutions.
Features:
• Network Connectivity - Dual ports: 1x Gigabit Ethernet (10/100/1000 Mbps) and 1x (10/100 Mbps)

• Ethernet Cascading - Up to 64 units share a single "daisy-chain" Ethernet IP address

• DC Power Sharing - Each PDU can provide DC power sufficient to power network management electronics and sensors in a neighbouring PDU in the event of AC power source loss

• Dual Ethernet Support - Dual Ethernet ports for redundant communication

• Dual Network Access - Dual network connectivity allows redundancy and Multiple stockholder connectivity for up to 64 units in Ethernet cascading mode

• Remote Connectivity - HTTP(s), iPV4 and iPV6, SSH, Virtual Serial, SNMP (v1, v2c, v3), JSON-RPC, LDAP(S), FTP/SFTP, RADIUS, Redfish DMTF RESTful API

• WebUI Interfacce - Data efficient REACT framework with native mobile device support
Specification: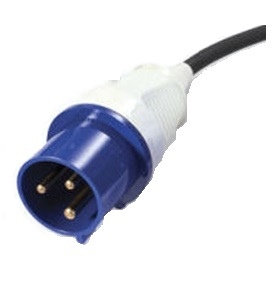 Metering & Switching

Metering Attributes Voltage(V),Current(A),Apparent Power(kVA),Real Power(kW),Power Factor,Energy(kWH)
Metering Accuracy ± 1% to ISO/IES 62052-21
Metering Location Input Phase and circuit breaker measurements
Remote Outlet Switching No

Electrical

Electrical Input
Acceptable input voltage 200-240VAC
Input current (phase) 32A
Input frequency 50/60 Hz
Max Input power 7.68 kVA @ 240 VAC
Input Plug IEC 60309 332P6
Electrical Output
Output voltage 230VAC
Maximum output current (phase) 32A
Overload protection (internal) 2, 1-pole 16A hydraulic-magnetic circuit breakers
Outlet configuration (36)C13, (6)C19

Physical

Chassis Dimensions (L x W x D) 1750.0mmx52.0mmx53.0mm
Depth at circuit breaker 53.0mm
Input cord length 3m (10 ft)

Environmental

Operating Temperature -5 to 60°C (23 to 140°F)
Storage Temperature -20 to 60°C (-4 to 140°F)
Humidity (operating/storage) 5-90% RH / 5-95% RH; non-condensing
Max operating elevation 3,000 m (9,840 ft)

Compliance

Safety verification CE, Demko Certified to IEC/EN60950-1, RoHS, REACH
Environmental ROHS, REACH

* BTO - 2 Week Manufacturing Lead Time *