PalmSecure - Fujitsu - Accessory Palm Secure ID Match Security Access Control Protection: Linux Operating system ( Highly adaptable )
Description:
Palm Secure ID Match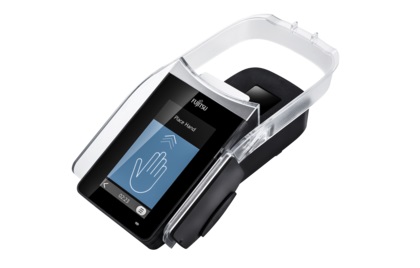 The FUJITSU PalmSecure ID Match device adds a new dimension to your security solution, whether it is protecting access, data or payment. It matches the unique palm vein scan with the biometric template stored on an individual SmartCard to avoid implementing a central database and keeping the process strictly personal.

PalmSecure is a contactless, palm-vein device offers an easy-to use, hygienic solution for verifying identity.
Features:
Maximum Security

- The preservation of personal privacy
- The widely respected accuracy of the PalmSecure sensor is combined with individual
SmartCards to result in an unparalleled False Acceptance Rate of 0.00008%.

Ultimate Usability

- Highly intuitive, easy to use and hygienic device
- The 4.3-inch touchscreen, contactless SmartCard technology and the acrylic glass hand
guide renders it extremely simple and safe to use.

Highly Adaptable

- The flexibility to fit into any scenario
- vIts customizable software allows it to be adapted to meet the needs in your business
environment.
Specification:
Palm Secure - Advanced Security


TECHNICAL SPECIFICATION

Base unit PalmSecure ID Match

LED STATUS LED:

Yellow: SmartCard reader contact and Magstripe reader
Blue: Wrist rest indicator for PalmSecure sensor input advice
Technology Embedded ARM Board
Operating system Linux
Processor brand name ARM® Cortex™-A8
Capacity 4 GB Flash
Audio Buzzer
Colour Black/transparent polyethylene

INTERFACES

Ethernet (RJ-45) LAN 100 mbit
USB 1 x USB A (no USB hot plug, only for maintenance and factory purposes, additional USB devices need to be explicitly tested)
1 x USB A / B mini (for PC connection from PS ID Match SDK V2)
Power supply 12V 36W AC adapter or Power over Ethernet (PoE)

SECURITY

Secure access Module (SAM) 2 x external SAM card slots, 1 x internal within security area
Card reader Contact SmartCard Reader ISO7816 (built-in), optional Wireless RFID Reader MIFARE (later also Legic or iClass)
Palmvein Sensor FUJITSU PalmSecure M1E sensor
Software Development Kit For PalmSecure ID Match SDK please order S26361-F1500-L300

DISPLAY

Touch technology Capacitive touch display
Size and resolution
Diagonal Size 10.9 cm (4.3-inch)
Resolution (native) 480 x 272 pixel

COMPLIANCE

Europe CE
USA/Canada in progress
Compliance link http://globalsp.ts.fujitsu.com/sites/certificates
Dimensions / Weight / Environmental
Dimensions (W x D x H) 262 x 125 x 96
Weight 810 g
Operating ambient temperature 10 - 35 °C

WARRANTY

Warranty period 2 years (depending on country)
Warranty type Bring-In Service (depending on country)
Warranty Terms & Conditions http://support.ts.fujitsu.com/warranty
Service Weblink http://www.fujitsu.com/fts/services/support