PX2-5190CR-E2N1A0 - Raritan Outlet Metered / Outlet Switched iPDU: 230V, 16A, 8 Outlets (8x C13 Locking Outlets), Plug: C20, 1U, USB-A, USB-B, Ethernet, Serial and Sensor Port
(PX-5000 Series) BTO
Description:
Raritan PX
Model Number: PX2-5190CR-E2N1A0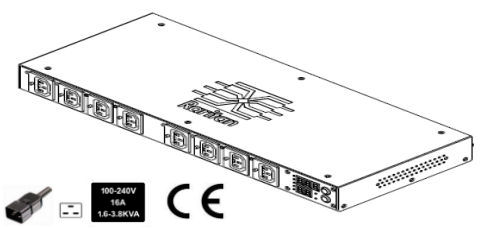 The Raritan PX2-5000 family of high-quality rack power distribution units (PDUs) offers real-time remote unit-level and individual outlet-level switching and power monitoring of current (amps), voltage, power (kVA, kW), power factor and energy consumption (kWh) with ISO/IEC +/- 1% billing-grade accuracy. The PX-5000 also supports Raritan's plug-and-play environmental sensors. Users can define thresholds and receive alerts when thresholds are crossed for both power and environmental events.
Also locking ready capable sockets when used with Raritan's compatible locking cables.

The PX2-5000 series is available in Zero U (vertical mount) and 1U and 2U (horizontal mount) form factors with a wide variety of NEMA, IEC and other plugs and receptacles, including models that support high power distribution such as 400V. Precise power information can be monitored, and the PX-5000 configured, via a user-friendly Web browser GUI or command line interface. Power information is also displayed at the PDU locally. Security is ensured with up to 256-bit encryption, strong passwords and advanced authorization options, including permissions, LDAP/S and Active Directory®. Plus the PX-5000 series is fully compatible with Raritan's Power IQ energy management software solutions.
Features:
Energy Metering Voltage (V), Current (A), Active Power (kW), Real Power (kVA), Energy (kWh), Power Factor
Metering Accuracy ISO/IEC 62053-21 1%
Metering per Input Line Yes
Metering per Branch Circuit Breaker Yes
Metering per Output Receptacle Yes
Remote Outlet Switching Yes
Environmental Sensor Ready Yes
Networking 10/100 BaseT Ethernet. Optional WiFi (802.11a/b/g/n)
Remote Management HTTP(s); SSH; Telnet; RS-232 (Serial); Power IQ; SNMP version v2/v3; SMTP; JSON-RPC Cascading Yes Max 8 PDUs can be daisy chained using a single Ethernet connection
Onboard Display 3-digit user-selectable display (can be selected between Manual and Auto Display Mode). Can display Line voltage, Line current, CB Current (if IPDU supports CB), Unit active power, Outlet Voltage, Outlet Current, and Outlet Active power
Compatible Sensors Temperature: Humidity, Air Flow, Static Pressure Single cable connection provides temp/humidity monitoring at three points in cabinet (with a single sensor assembly

PX2-5000 SERIES:

Power Metering and Monitoring

- Remote power monitoring, metering and rich data collection including current (amps), voltage, power (kVA, kW) and energy consumption (kWh)

- LED and alarms for unbalanced loads based on user-adjustable thresholds

- Capable of ISO/IEC +/- 1% billing-grade accuracy real-time power monitoring and metering, down to individual outlets for some models

Power Management, Security and Remote Access

- Alerts via SNMP, e-mail and syslog from individual outlets, units, lines and circuit breakers when user-adjustable thresholds are exceeded

- Standards based polling, configuration and alerting with encryption via SNMP v1, v2, v3 support, SETs, GETs and TRAPs

- Ethernet, serial, USB-A, USB-B and sensor connections

- Directory services support providing advanced authorization options, including permissions, LDAP/S, RADIUS and Active Directory®. 256-bit AES encryption and strong passwords

- Remote access via Web and CLI. Supports HTTP, HTTPS, SSH and Telnet

- Compatible with Raritan's Power IQ®

Environmental Monitoring

- Environment-monitoring-ready intelligent rack PDUs with optional plug-and-play environmental sensors

- Alerts based on user-defined environmental thresholds

- LED indication if sensor is plugged in and detected

Hardware Hundreds of models

- High-power, including 400V power distribution and high temp 60C models

- High-quality construction and components such as solder connections to copper bus bars in PCBs, ISO 9000 quality manufacturing and quality components from Tyco, Hubbell® and Mennekes®

- Lightweight and strong extruded aluminum chassis with excellent heat dissipation and versatile button and bracket mounts

- Designed with 3D CAD/CAM software

-UL489 circuit breakers

- Smart reversible LED display that changes orientation

- Raritan's 25 years of data center management and embedded development experience led to the embedded high-performance processor

- Locking Outlets ready capable sockets when used with Raritan's compatible locking cables
Specification:
PLUG: C20 Input Cable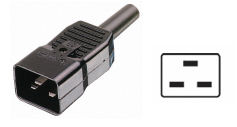 PX2-5190CR-E2N1A0 Raritan Outlet Metered / Outlet Switched iPDU: 230V, 16A, 8 Outlets (8x C13 Locking Outlets), Plug: C20, 1U, USB-A, USB-B, Ethernet, Serial and Sensor Port
(PX-5000 Series)

(BTO) - BUILT TO ORDER

INPUT

Input Plug IEC 60320 C20 16A 2P3W (L1/L2/E) IP44("splashproof") (230V, Single phase)
Cord Length 0 meters (0 feet)
Cord Entry Rear feed
Cable Type 2P 3W
Number of Power Cords 1
Maximum Input Current 16A (per line)
Nominal Input Voltage 230V, Single phase
Rated Input Voltage 100 - 240V, Single phase
Input Frequency 50/60Hz
Power Capacity 1.6kVA at 100V, 3.8kVA at 240V

OUTPUT

Nominal Output Voltage 230V
Rated Output Voltage 100 - 240V
Output Connections (8) Locking IEC 60320 C13 2-pole, 3-wire; 10A
Overload Protection N/A
Cable Retention Universal locking

PHYSICAL

Unit Dimensions (W x D x H) 17.3" x 7.2" x 1.7" ; 440 x 183x 44 mm
Shipping Dimensions (W x D x H) 16.34" x 12.6" x 22.44" ; 415mm x 320mm x 570mm
Colour Black
Powder coat Mounting 100-89-8430-00

ENVIRONMENTAL

Operating Environment 5 - 50°C (41 - 122°F)
Operating Relative Humidity 5-85%
Operating Elevation 0-10000ft

CONFORMANCE

Regulatory Approvals: CE,
Canada ICES-003, Class A
Part 15 Class A of the FCC rules
RoHS compliant