SB-PWIQ5-VA Sunbird Power IQ Virtual Appliance Evaluation Software for up to 5 Devices
Description:
Sunbird Power IQ 4 screen images: Datacenter Health, User Configuration Dashboard, Power Control, Power Capacity and PUE Gauge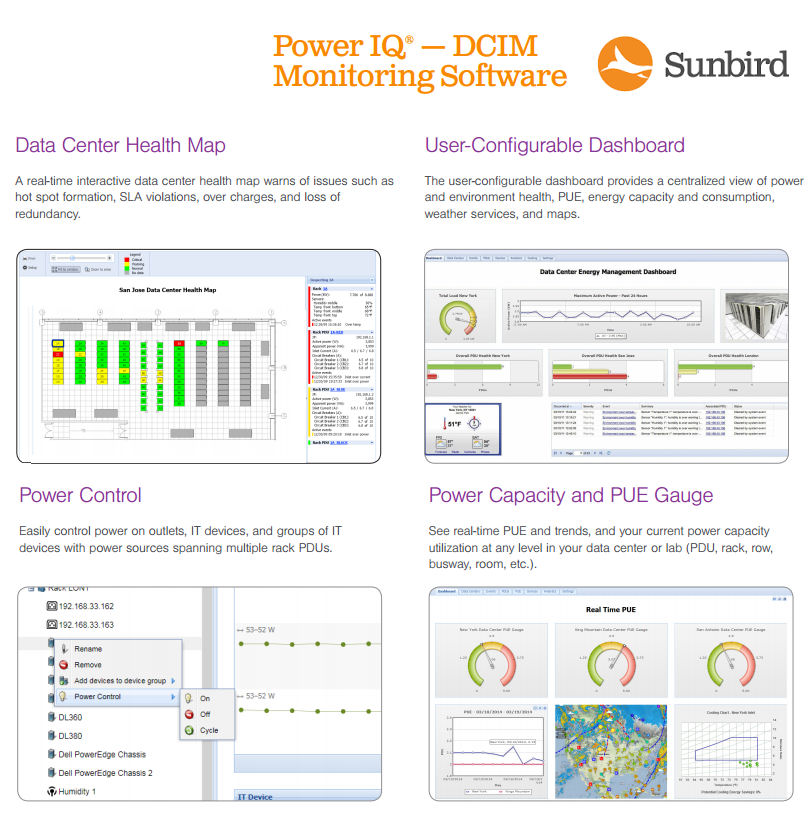 Power IQ DCIM Monitoring Software

Virtual Appliance Base Model

DCIM Monitoring Software

VMware® Virtual Appliance
Our application software, database and
hardened Linux® operating system are
fully tested and ready to load on your
VMware platform

Easily Manage Data Center and Facility Energy, Power and Environment In today's data center, being efficient with power and cooling resources is just as important as maintaining uptime. Power IQ® PIQ software provides the information and controls you need to fully utilize your existing infrastructure resources while alerting you to trouble before it causes downtime.

Power IQ software can be easily deployed as a standalone DCIM monitoring solution or with Sunbird's dcTrack® DCIM Operations to provide full asset and change management.
Power IQ functionality scales to meet enterprise needs, allowing you to securely keep tabs on: all your Data Centers and Labs with monitoring of your CRACs, UPS, PDUs, RPPs, Meters, Branch Circuits, Racks, Rack PDUs, Environment Sensors, and IT Devices, all from a single web browser. Dual communication capabilities let you monitor critical infrastructure via a secure out-of-band IP network, and device data and control can be provided to users over WAN with role-based security and permissions.

Power IQ is vendor neutral and automatically supports devices from: APC®, Avocent®, BayTech®, Cyber Switching®, Cyclades®, Eaton, Emerson®, Geist, HP®, Knurr®, Liebert, MRV®, NetBotz, Raritan, Rittal®, Server Technology®, Schneider Electric, Sinetica, Starline Track Busway, Tripp Lite, and UNITE™, Veris®, and many others. And you can easily add support for any other manufacturers with our dynamic plugin capability.

Features:
Specification:
Sunbird Power IQ 4 screen images: Power and Energy Analytics, Cooling Chart, Power Capacity "days of supply " Forecast and Smart Rack View Page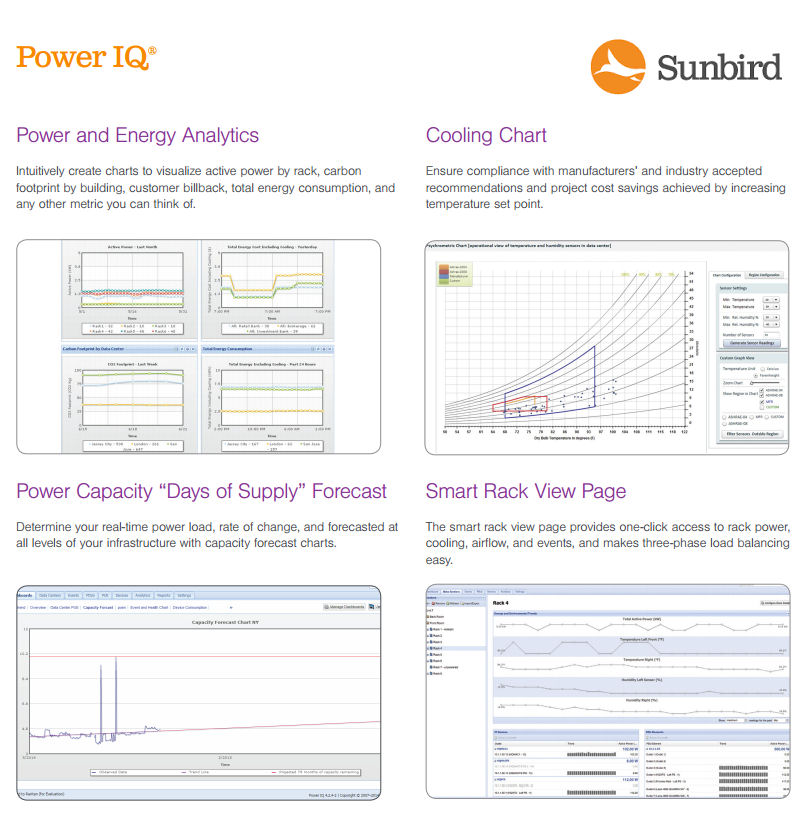 Virtual Appliance Base Model
Power IQ Software & Licence