VS481B - ATEN - 4 Port HDMI Switch, Instant smooth switching, 3D, Deep Color, 4kx2k; HDCP 2.2 compatible (Supporting Ultra HD 4K)
Description:
VS481B - Front & Rear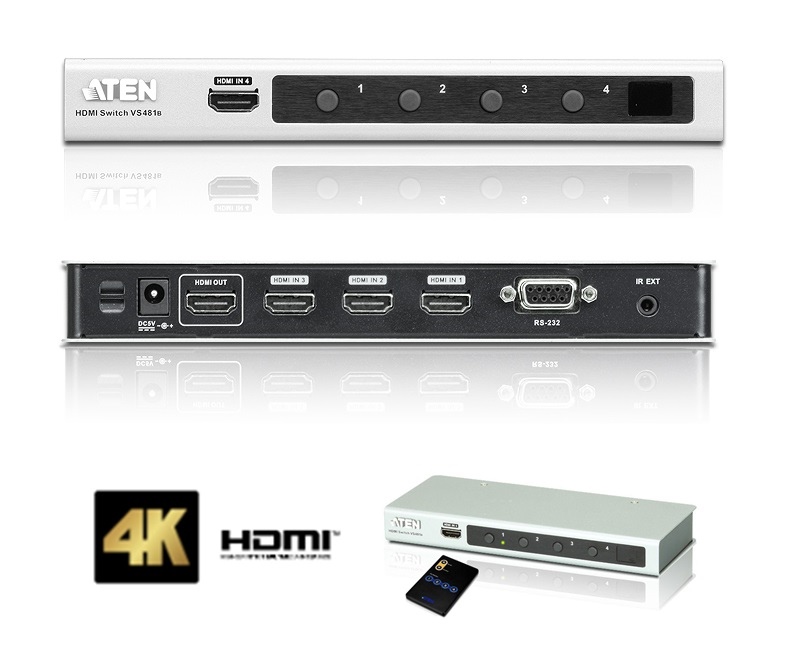 The VS481B 4-Port HDMI Switch allows you to quickly connect 4 HDMI sources to your HDMI display and easily switch between them via front panel push buttons, RS-232 or IR remote control. The front panel's LEDs indicate the source device selected for the display at a glance.

The VS481B supports Ultra HD 4K x 2K, the newest resolution for high definition displays; Auto Switching modes for auto port selection;Instant Switching for a smooth video transition between HDMI ports with increased efficiency; and features a built-in bi-directional RS-232 serial port that allows the switch to be controlled through a high-end controller, PC, and/or home automation/home theater software package.
Features:
- Allows up to four HDMI A/V sources to be connected to one HDMI display
- Quick and easy switching between HDMI sources via front panel push buttons,
- Smooth switching via RS-232 & IR Remote control
- Supports 340MHz bandwidth for ultrahigh 4kx2k video
- HDMI (3D, Deep Color, 4kx2k); - HDCP compatible
- Auto switching modes for auto port selection
- Long distance transmission – up to 15 m (24 AWG)
- Consumer Electronics Control (CEC) support
- Supports Dolby True HD and DTS HD Master Audio
- Built-in bi-directional RS-232 serial remote port for high-end system control
- Instant switching between - HDMI input sources
- Supports IR extension using a IR extension cable *
- LED indication of video source devices

Note: The IR extension cable (Part No. 2XRT-0003G) is not included in this package

Specification:
VS481B - DIAGRAM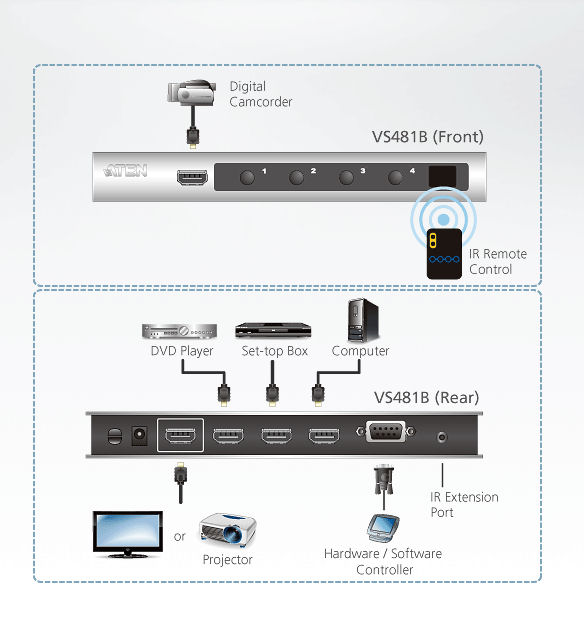 Package Contents:

1x VS481B 4-Port HDMI Switch
1x HDMI Cable
1x IR Remote Control
1x Power Adapter
1x User Instructions

Video Input

Interface 4 x HDMI Type A Female (Black)
Impedance 100 Ώ
Max. Distance 1.8 m

Video Output

Interface 1 x HDMI Type A Female (Black)
Impedance 100 Ώ
Max. Distance 15 m

Video

Max. Data Rate 9 Gbps (3 Gbps Per Lane)
Max. Pixel Clock 300 MHz
Compliance HDMI (3D, Deep Color, 4K)
HDCP 2.2 Compatible
Consumer Electronics Control (CEC)
Max. Resolution Up to 4K@60 Hz (4:2:0)
Max. Distance Up to 15 m

Audio

Input 4 x HDMI Type A Female (Black)
Output 1 x HDMI Type A Female (Black)
Control RS-232 Connector: 1 x DB-9 Female (Black)
Baud Rate and Protocol: Baud Rate: 19200, Data Bits: 8,
Stop Bits:1, Parity: No, Flow Control: No
IR 1 x Mini Stereo Jack Female (Black)
Power Connector: 1 x DC Jack
Consumption: 5 VDC, 5W

Environmental

Operating Temp. 0 - 50°C
Storage Temp. -20 - 60°C
Humidity 0-80% RH, Non-Condensing

Physical Properties

Housing Metal
Weight 0.47 kg
Dimensions (L x W x H) 20.00 x 8.25 x 2.50 cm