PDUMH20HV Tripp-Lite Single-Phase Metered PDU, 3.2-3.8kW 16/20A 200-240V, 1U Horizontal Rackmount, 2x C19 and 8x C13 outlets, C20 input with NEMA L6-20P adapter
Description:
PDUMH20HV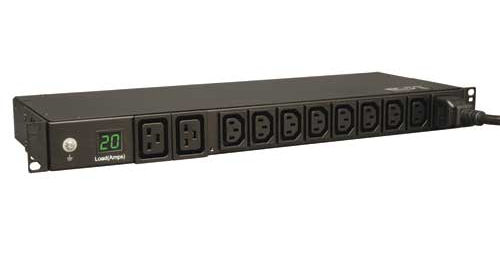 Metered single phase 16/20A 200-240V PDU
1U horizontal rackmount; digital current meter
C20 input with L6-20P plug adapter; 12 ft. / 3.7m line cord
10 total outlets (8 C13, 2 C19)
Reversible housing; 6.5 in. / 16.5 cm depth



Tripp Lite Metered PDU / Power Distribution Units offer real-time local reporting of load level in amps via built-in digital meter. Enables visual current monitoring of PDU output current to prevent circuit overloads as additional equipment is added. Offers reliable rackmount multi-outlet power distribution from any protected UPS, generator or mains input power source. High quality design includes rugged all-metal housing and secure rackmount installation with included mounting accessories.
Features:
16/20A single phase 200-240V Metered Power Distribution Unit / PDU (Agency de-rated to 16A continuous)
Built-in 2 digit visual meter continuously reports PDU load level in amps
C20 inlet with C20 input cable and L6-20P adapter; 12 ft. / 3.7m line cord
1U horizontal rackmount format installs in one rack space
10 total outlets (8 C13 / 2 C19)
Mounting flanges support installation in 2 and 4 post racks, with additional support for wall-mount and under-counter installation formats
Optional PDUSIDEBRKT enables 0U vertical rackmount in compatible racks
Back panel grounding lug

Typical Applications

Ideal for network configurations requiring a metered PDU

Package Includes

Rackmount PDU
C19 to L6-20P plug adapter
Rack mounting brackets
Specification:
PDUMH20HV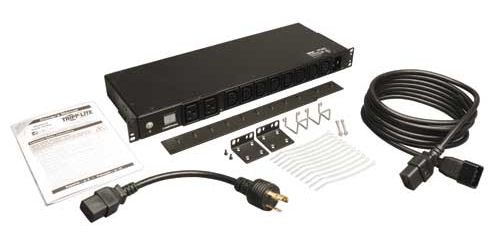 PDU Type Metered
OUTPUT
Output Capacity Details 3.3kW (208V input), 3.5kW (220V input), 3.7kW (230V input), 3.8kW (240V input), 3.2kW (200V input); 20A maximum (Agency de-rated to 16A continuous)
Frequency compatibility 50 / 60 Hz
Output nominal voltage 200-240V nominal, single phase
Overload protection Outlets are arranged in a single unbreakered load bank
Outlet quantity / type 8 C13 and 2 C19 outlets
Outlet Type IEC-C13, IEC-C19
Customized load management receptacles Each outlet is individually controllable via remote interface
INPUT
PDU Input Voltage 200; 208; 220; 230; 240
Maximum Input Amps (A) 20
Maximum Input Amps (A) Details Agency de-rated to 16A continuous
PDU Plug Type NEMA L6-20P; IEC-320 C20
Input cord length (ft.) 12
Input cord length (m) 3.7
Phase Single-Phase
LEDS ALARMS & SWITCHES
Switches n/a
PHYSICAL
Shipping Dimensions (HWD/in) 2.25 x 20.5 x 10.5
Shipping Dimensions (HWD/cm) 5.7 x 52.1 x 26.7
Shipping weight (lbs) 7.2
Shipping weight (kg) 3.3
Unit Dimensions (HWD/in) 1.75 x 17.5 x 6.5
Unit Dimensions (HWD/cm) 2.87 x 44.4 x 16.5
Unit weight (lbs) 6.8
Unit weight (kg) 3.1
Material of construction Steel
Style Rackmount
Form factors supported 1U rackmount. Includes mounting accessories for 2-4 post racks
PDU Form Factor Horizontal (1U, 2U, etc)
ENVIRONMENTAL
Relative Humidity 0-95% non-condensing
CERTIFICATIONS
Certifications Tested to UL 60950-1 (USA, Canada), Class A (Emissions), NOM (Mexico), ), CE (IEC 60950), (RoHS compliant)
WARRANTY
Product Warranty Period (Worldwide) 2-year limited warranty

† Tripp Lite uses primary and third-party agencies to test its products for compliance with standards. See a list of Tripp Lite's testing agencies.