PE8208G - Aten PDU - NRGence Eco PDU intelligent IP Access switching PDU 16 Amp C20 feed to 1 x C19 & 7 x C13 AC outlets, Outlet monitoring
Description:
General 81/208G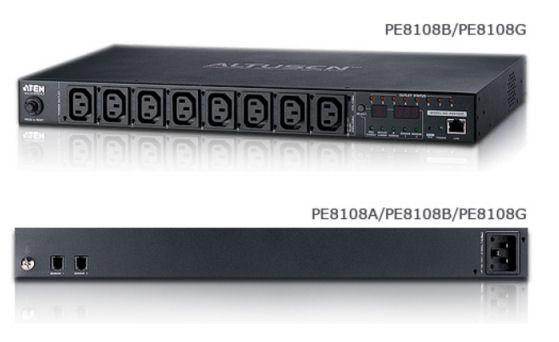 8 outlets Mixed (1 x C19 & 7 x C13 )
Supply 16A C20 Port
Outlet Power Measurement

The PE8208G eco PDU is intelligent PDUs that contains 1x C19 & 7 x AC C13 outlets from a 16A C20 Feed supply port.

It provides secure, centralized, intelligent, power management (power on, off, cycle) of data center IT equipment (servers, storage systems, KVM switches, network devices, serial data devices, etc.), as well as the ability to monitor the center's health environment via sensors*.


The ATEN Altusen eco PDUs offer remote power control combined with real-time power measurement - allowing you to control and monitor the power status of devices attached to the PDUs at outlet level from practically any location via a TCP/IP connection.

The eco PDU supports any 3rd party v3 SNMP Manager Software and The eco Sensors (Energy Management Software). The eco Sensors provides you with an easy method for managing multiple devices, offering an intuitive and user-friendly Graphical User Interface that allows you to configure a PDU device and monitor power status of the equipment connected to it. With the eco Sensors, the Sensor-enabled eco PDU also offers comprehensive power analysis reports which can separate by departments and locations, providing precise measurements of current, voltage, power and watt-hour in a real-time display.

With its advanced security features and ease of operation, the eco PDU is the most convenient, most reliable, and most cost effective way to remotely manage power access for multiple computer installations and allocate power resources in the most efficient way possible.

*Sensors are optional accessories. A sensor-enabled installation is required to generate a more complete energy-efficient data and chart. Higher sensor installation density is helpful to generate more accurate data.


Features:
• 8 outlets C13 Mixed ( 1 x C19 & 7 x C13 )
• Power input 16Amp IEC C20 Port / Requiring supply cable
• Outlet Power Measurement

Power Distribution

- Space saving 1U rack mount design with rear mounting
- IEC or NEMA outlet models
- 3 digit 7-segment front panel LED shows Current / IP Address
- Remote users can monitor outlet status via web pages on their browsers
- Safe shutdown support
- Separate power for the unit's own power and its power outlets.
- The user interface is still accessible even when an overload condition trips the devices' breaker

Remote Access

- Remote power control via TCP/IP and a built in 10/100 Ethernet port
- Network Interfaces: TCP/IP, UDP, HTTP, HTTPS, SSL, SMTP, DHCP, NTP, DNS,
- (10Base-T/100Base-TX, auto sense, Ping)
- eco PDU Power Management software – eco Sensors
- Supports SNMP Manager V3

Operation

- Local and Remote power outlet control (On, Off, Power Cycle) by individual outlets
- Power-on sequencing – users can set the power on sequence and delay time
- Easy setup and operation via a browser-based user interface
- Multibrowser support (IE, Firefox, Chrome, Safari)
- RTC support to keep the timer running during times of no power.
- Supports up to 8 user and 1 administrator accounts

Management

- Power status measurement at the PDU or Outlet level
- LED indicators for current and IP address at the PDU device level
- Real-time current, voltage, and kWH displayed in a browsed-based UI for monitoring at the PDU
- Current and voltage threshold setting
- Naming support for outlets
- User outlet access assignment on an outlet-by-outlet basis.
- Event logging and syslog support
- Upgradeable firmware
- Multilanguage support: English, German, Chinese, Japanese, French, Spanish, Italian..

Security

- Power status measurement at the PDU or Two-level password security
- Strong security features include password protection and advanced encryption – 128 bit SSL
- Remote authentication support: RADIUS

Eco Sensors Energy Management Software

- Automatic discovery of all PE devices within the same intranet
- Remote real-time power measurement and monitoring
- Remote real-time power outlet management*
- Remote real-time environment sensor monitoring
- Plotting/Monitoring of all PE devices
- Exceed threshold alert through SMTP and Syslog
- Power Analysis Report
Specification:
SETUP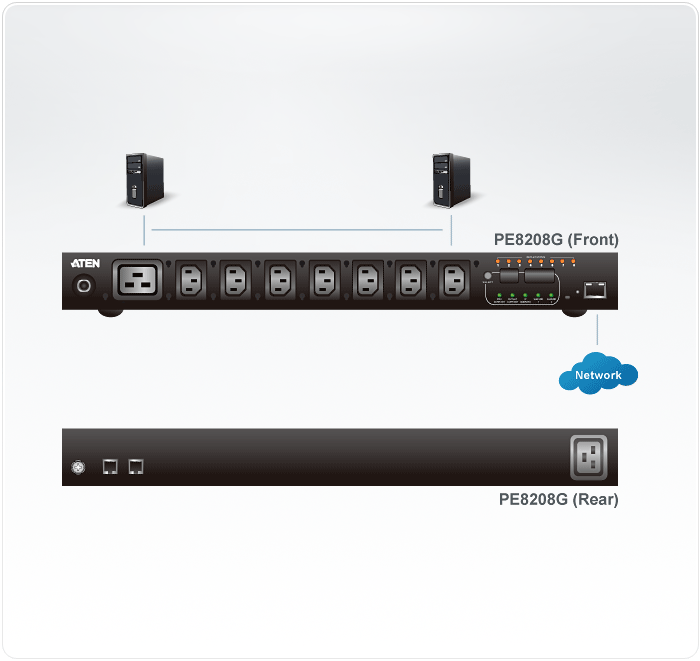 CONTENTS

1x PE8208 Power Distribution Unit
1x Power Cord
1x Rack Mount Kit
1x Software CD
1x User Instructions

Monitoring level - Outlet

ELECTRICAL

Function PE8208A PE8208B PE8208G
Power Outlets Direct 8
Connectors Power
Inlets 1 x IEC 320 C20
Power
Outlets NEMA 8 x NEMA 5-20R NA
IEC NA 7 x IEC 320 C13 (Ports 2–8);1 x C19 (Port 1) 7 x IEC 320 C13 (Ports 2–8);1 x C19 (Port 1)
Sensor 2 x RJ-11
LAN 1 x RJ-45 (F)
LEDs Outlet Status 8 (Orange)
Outlet / IP 1-digit 7-segment (Orange)
PDU Current / Outlet Current / IP 3 (Green)
Current / IP 3-digit 7-segment (Orange)
Power 1 (Blue)
10/100 Mbps 1 (Orange / Green)
Link 1 (Green)
Sensor 2 (Green)
Switches Reset 1 x Semi-recessed Pushbutton
Power 1 x Non-fuse Breaker
I/P Rating 100–120V~; 50/60Hz; 16A 100–240V~; 50/60Hz; 16A 100–240V~; 50/60Hz; 16A
Load Capacity 1920W 3840W 3840W
O/P Rating Per Port 100–120V~; 50/60Hz; 16A 100-240V; 50/60Hz, 12A (C13)
100-240V~; 50/60Hz, 16A (C19) 100-240V; 50/60Hz, 10A (C13)
100-240V~; 50/60Hz, 16A (C19)
Total 100–120V~; 50/60Hz; 16A 100-240V~; 50/60Hz, 16A 100-240V~; 50/60Hz, 16A

ENVIRONMENTAL

Environment Operating Temp. 0 - 50°C
Storage Temp. -20 - 60°C
Humidity 0-80% RH Non-condensing

PHYSICAL PROPERTIES

Housing Metal
Weight 2.82 kg 2.87 kg 2.87 kg
Dimensions
( L x W x H ) 43.24 x 21.93 x 4.40 cm

COMPLIANCE

EMC Verification - FCC, CE, C-Tick, Others by Request
Safety Verification - cTUVus, PSE, Others by Request

Note: For some of rack mount products, please note that the standard physical dimensions of

WxDxH are expressed using a LxWxH format

* The specification and pictures are subject to change without notice.

* All trademarks and logos are the properties of their respective holders