ADDER.net

Network management software for professional networks
Description:
ADDER.net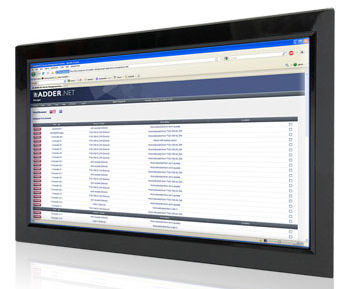 ADDER.net is a professional enterprise management suite delivering total IP device control, management and connectivity. Adder KVM over IP devices provide the ability to control large numbers of host computers from remote locations. When controlling larger groups of dispersed computers using numerous KVM over IP devices, the major challenge becomes one of management - retaining active control over a complex mix of devices, host computers and registered users. ADDER.net has been developed as a common interface to help you to remotely manage any number of KVM over IP devices together with all of their connected host computers and the access rights of the users.

ADDER.net operates as a server application running on a system that can be completely separate from any of the KVM over IP devices - it merely requires an IP-network or Internet connection.
ADDER.net uses an intuitive HTML user interface which means that registered users can access and control it remotely using a standard web browser. Like all Adder KVM over IP products, ADDER. net employs high specification security techniques to ensure that only authorised
users may gain access. ADDER.net has two main modules: The Manager and the Connector
Features:
The Manager

This module is accessible only to managers and is where details about all devices, hosts and users are configured and stored.



The Connector

This module can be used by registered users to allow quick access to all of the targets for which they have access rights. Targets may be devices, hosts or device groups, as appropriate.



Security

To ensure maximum security, ADDER.net does not retain any passwords within its database for the devices that it controls. Instead, a valid password is used once only to gain access to each device during the 'acquire' stage where ADDER.net establishes a Secure Ticket with the device.
In all subsequent accesses to each device, the relevant secure ticket is used to gain access.



Additional Features

* Administer KVM over IP devices
* Compatible with all ADDER.net KVM over IP devices
* Find devices (scan network for devices)
* Cluster devices
* Web-based interface
* HTTPS encryption
* User and group support
* Locally input and maintained users and groups
* Users and groups imported from LDAP (Active Directory)
* Grant user access to devices
* Allowing connection to device by means of cryptographic authorisation tokens
* Display current connection status of managed devices and hosts
* Database back-up and restore
* Storage/inspection of device logs
* Network wide upgrade of firmware in devices
* Different access/views for ordinary users and administrative users
* On-screen help. On-line how-to and manual
* Easy installation and upgrades
* Based on proven technologies such as Apache
* Schedules for LDAP updates
* Automatic daily backups


Specification:
ADDER.net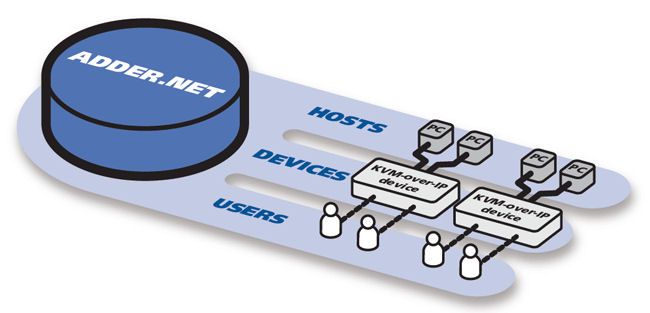 CONTACT US FOR A FREE DOWNLOAD.