DX2-DH2C2 Raritan SMARTLOCK - Intelligent Door Sensor (Intelligent Senor Accessory)
Description:
RARITAN: 'Intelligent Sensor Accessory'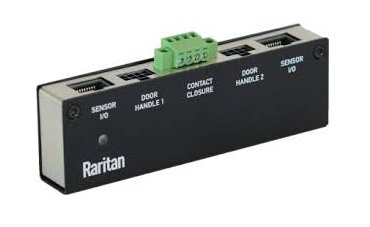 In addition to physical security at the rack, Raritan offers other intelligent rack solutions that monitor and deliver critical information you need for continued uptime.

It is an economic scalable solution that addresses evolving security requirements for IT applications and regulatory compliance from HIPAA, SOX, PCI DSS 3.2, or SSAE 16.
Features:
Real-time Sensing and Alerting

Embedded into the SmartLock system is Raritan's innovative Xerus technology. Xerus enables smart sensing, tracking, and alerting of proactive, real-time information with an automated audit-trail logging of access events.
Specification:
Intelligent Sensor Accessory

• Native support for Weigand protocol

• Third party handle/reader capable

• Serial interface for future upgrades

• Compatible with PowerIQ DCIM Software

• Designed for PX3

(Ask your sales contact for PX2 or EMX2 support)