AC-SVA-125 CIM Interconn avCat VGA Video & Audio UTP Extender set 125 Mtr range ( Video Display System Set )
Description:
AVCAT SV-125 Transmitter and receiver set shown.

The CIM Interconn avCat video transmission system is a modular distribution system for VGA and audio signals using Cat 5/6 cabling. The VGA image from a computer can be displayed on up to 500 monitors connected by up to 10km Cat 5/6 cabling. All system units can also support audio (one channel of mixed analogue stereo in a reasonable quality) as an option. Together with the skew compensation units it is possible to create avCat transmission/distribution systems to suit almost any requirement.

CIM interconn's proprietary VGA transmission technology is unsurpassed in quality on the world market. The avCat products represent the fifth generation of CIM interconn's extender products.

The avCat system has demonstrated mission critical reliability in 24/7 applications in banks, dealer rooms, call centres, hospitals, police stations, and numerous other business, military and industrial contexts throughout Europe since 1999

Flexibility-
The avCat system can be used either as out-of-the-box display systems for 125m (SV-125) and 300m (SV-300) that include both transmitter and receiver. Or the avCat system can be used as a modular system, where receiver and transmitter are purchased separately

A powerful monitor image broadcast system-
The avCat product range allows the VGA image from a single computer to be displayed on multiple monitors. The system consists of Transmitter and Receiver modules supporting a variety of input and output possibilities. Video equalisation and skew compensation allow the user to fine tune the image for optimum quality, even over long distances. The modular nature of the system makes it both flexible and expandable.



Features:
Transmission of VGA/SVGA/XGA/SXGA+/UXGA to multiple monitors.

Cable types: Cat 5/6 UTP/STP, standard VGA triple coax.

Supports resolutions of up to 2048x1536 at 50m and 1280x1024 at 125m

Distance to receiver units: up to 125 meter

Daisy chaining of all units possible.

Supports a wide range of display systems, including CRT, TFT, plasma screens & video projectors.
Specification:
AVCAT SVA125 with Audio typical setup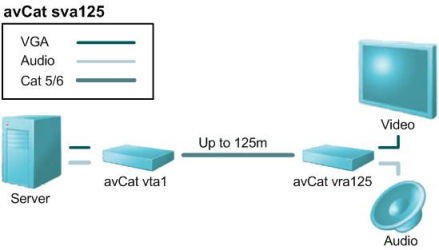 Maximum Resolution: up to 2048x1536 @ 85 Hz

Maximum Distance: 125/300 meter (for vr125/ds125 & vr300/ds300, respectively)

Video Compatibility: VGA, SVGA, XGA, SXGA+, UXGA

Video Bandwidth: Transmitter: 400 MHz Receiver: 250 Mhz

Link Cable: Cat 5/5e/6 UTP/FTP Cable, EIA/TIA 568

Connectors vt1: In: 1x HD15 (VGA), Out: 1x RJ45 (link), 1x HD15 (VGA) / vt4: In: 1x HD15 (VGA), Out: 4x RJ45 (link), 1x HD15 (VGA)

Audio versions have additional MiniJack in/out connectors

Connectors vr125: In: 1x HD15 (VGA), Out: 1x HD15 (VGA) / vr300: In: 1x HD15 (VGA), Out: 1x HD15 (VGA)

Audio versions have an additional MiniJack out connector

Power Supply: 12V DC 1.5A