DPX-T3H1 - Raritan Sensor - Combo of three temperature sensors with humidity support, 4m cable & 1m between sensors / RJ-12 (Basic Environmental Monitoring Sensor)
Description:
DPX-T3H1 ( Temperature & Humidity Sensor )

Three temperature sensors, middle sensor supporting humidity (four sensors total in three housings), 13ft (4m) cable from RJ-12 connector to first sensor, 3ft (1m) between first and second and second and third sensor housings.
Features:
Compatible with Raritan DPX rack power units RJ12 ports.

3 x Sensors for Temperature

1 x Sensors for Humidity

Designed with eye for easy fitting to bolt or tie in.

3 Mtr Cable length + 3 Mtrs between sensors
Specification:
Close up of sensor (Guidance Only)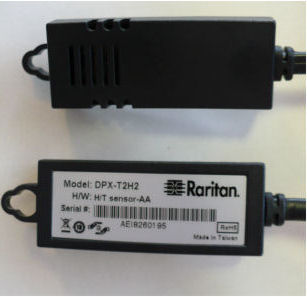 Triple Combo of 3 temperature and 1 x humidity sensors-10ft (3m) and additional 10ft (3m) between combination sensors-RJ12 connector- (based on 3probe for temperature and 1 probe for humidity)

10ft (3m) Cable between combination sensors

Easy hook eye for fitting at end of sensor block

Compatible with Raritan DPX product range with RJ12 connection.